Schneider Electric Solar and Discover Battery Attain UL 9540 Certification for XW Pro and AES Batteries
The XW Pro and Discover AES batteries now certified to the UL 9540 safety standard for Energy Storage Systems

UL 9540 simplifies the design and installation approval process

The system offers modular and flexible battery energy capacity
Burnaby & Richmond, BC – May 17, 2021 – Schneider Electric Solar and Discover Battery announce UL 9540 safety certification for Schneider Electric's XW Pro hybrid inverter and Discover Battery's Advanced Energy System (AES) LiFePO4 lithium battery. UL9540 certification simplifies the design and installation approval process for residential energy storage systems.
Discover AES LiFePO4 lithium batteries feature a proprietary high current Battery Management System (BMS) that easily integrates with Schneider Electric's hybrid inverters. The battery's internal BMS automatically sets and dynamically manages the inverter's charge and discharge configuration, improving recharge time by up to 25% when compared with open-loop control. UL9540 approved designs with the XW Pro for both the AES LiFePO4 7.4 kWh and 3.0 kWh battery models provide installers with design flexibility and paralleling options for ESS.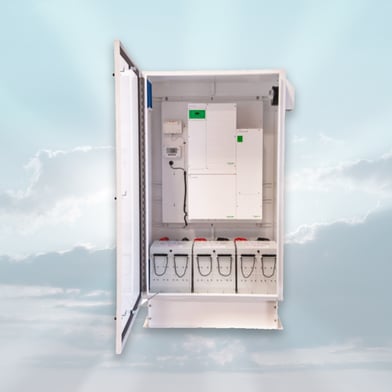 The Schneider Electric XW Pro is the heart of a home or business's power system, connecting solar and battery storage with the grid and an optional generator for backup power and energy security. Carrying on the legacy of Schneider Electric's two decades of experience in solar & storage, the XW Pro offers the ultimate in backup power performance with a high overload rating (2x power). The XW Pro also provides the flexibility to match desired energy capacity with power output requirements. With the ability to select the battery size per inverter, installers can tailor the system design to the needs of their clients.
"Integrating AES LiFePO4 batteries with the XW Pro platform delivers best-in-class performance, real-time battery status, dynamic charging and data-logging for system owners," said David Norman, VP Solar Sales, Discover Battery. "With UL 9540 certification, North American installers can be confident that the pairing of XW Pro with Discover AES LiFePO4 batteries meets the highest safety standards. Furthermore, the permitting process should now be a smooth and routine matter with the local inspector and Authority Having Jurisdiction (AHJ)."
"As recent weather extremes tested the grid resilience in North America, we have seen paring Solar with Storage has become increasingly popular," said Bernhard Kiechl, VP of Marketing, Research & Development, Schneider Electric Solar. "At Schneider Electric Solar, we're focused on providing safe and reliable solutions for homeowners and business owners while making the system design and installation easy. The UL 9540 certification with Discover Battery provides another well-integrated solar and storage system combination for the XW Pro hybrid inverter with the comprehensive safety standard."
About Schneider Electric
Schneider's purpose is to empower all to make the most of our energy and resources, bridging progress and sustainability for all. We call this Life Is On.
Our mission is to be your digital partner for Sustainability and Efficiency.
We drive digital transformation by integrating world-leading process and energy technologies, end-point to cloud connecting products, controls, software and services, across the entire lifecycle, enabling integrated company management for homes, buildings, data centers, infrastructure and industries.
We are the most local of global companies. We are advocates of open standards and partnership ecosystems that are passionate about our shared Meaningful Purpose, Inclusive and Empowered values.
About Discover Energy Corp.
Discover Battery, a SOLV4EX managed company, leads the industry in designing, manufacturing, and distributing leading-edge battery technologies to transportation, motive power, and energy storage industries. Our global distribution centres are capable of shipping our products anywhere our customers need. We operate multiple manufacturing facilities that produce batteries for a range of applications, including renewable energy, commercial, telecom systems, mobility, and UPS/emergency lighting. With over 70-years of experience, we are leading the global power shift for a cleaner energy future. For more information, please visit us at:
www.discoverbattery.com
www.solv4ex.com
Additional resources:
Discover Battery AES LiFePO4 Lithium Batteries
Schneider Electric XW Pro Hybrid Inverter