Getting out of a tough situation with a winch requires the right battery for your four-wheel-drive vehicle.
There are so many battery specifications, features, and benefits to sift through that choosing a battery can become overwhelming. Here are some tips to make sure you're prepared to be up and back off the beaten path in a pinch:
The basics - What's required:
You will need enough Cold Cranking Amps (CCA) in the battery to power both your engine and winch. The battery must have the reserve capacity to supply enough power to the winch. A 12-volt battery rated up to 650 CCA will typically be enough for a 12,000 lb. vehicle which is the general standard for winches.
However, always consult with your winch manual to check the recommended battery rating and size as requirements can vary.
When installing the battery, look if it is installed upright or sideways. If it's sideways, a flooded battery will not work as it will leak out its electrolyte fluid and no longer function. This means an AGM battery is required.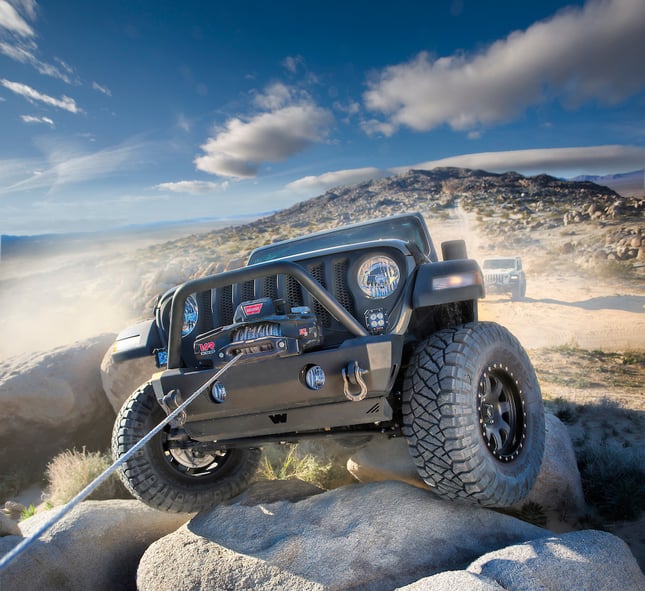 What's recommended:
The higher the CCA rating, the more reserve capacity it will have and leaves less chance of getting stranded in the middle of nowhere. Because of the high-stress conditions of activities such as off-roading and other recreational uses, getting a battery that can handle high amounts of vibration will also extend the total life of the battery.
Flooded batteries constructed with element and anchor bonding will have increased durability and service life for high-vibration environments due to battery plates being bonded together at the top and bottom of the plates themselves.
A winch will work if your vehicle engine is off but will only operate for a few minutes. You'll likely need more time than that and is the reason why it's recommended to run your vehicle engine while winching. Also, connecting a stand-alone winch battery to the battery in your vehicle with a properly sized trailer wiring kit ensures there's more than enough power to operate the winch and start your vehicle.